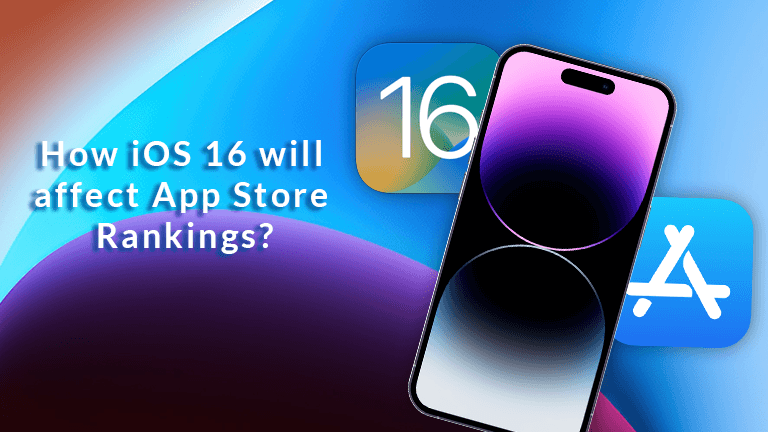 Ever since Apple announced iOS 16 at WWDC on June 6, 2022, iPhone users are eyeing each latest update from the brand. But finally, the iOS 16 release date is over now. On September 12, Monday, Apple released its latest version.
With several welcoming tweaks, iOS 16 is all set to streamline things for Apple users. Nearly almost every iPhone user is expected to jump to this latest version as usual.
Undoubtedly, Apple iOS 16 could be a source of excitement to most folks. But potential anxiety to iOS App developers. The newest tweaks are expected to affect most applications' Store Rankings, and here's an explanation.
Personalization Upgrades- the Potential Killer for Organic Results
So far from the Apple iOS 16 latest update, no changes in the store's user interface have been found. Also, there are no juicy add-ons like iOS 15's custom product pages (CPP) and in-app events (IAEA) this time.
However, the App Store Privacy Policy highlights certain things. This can be a source of concern for the application for the phone's iPhone. The Privacy Policy section seems to be putting more stress on offering personalized recommendations to the users. Not something new though!
But it is expected that the application will no longer be presented the same way as it was supposed to be delivered before. As part of this latest iOS version for iPhone, 6 stories in the Today tab are shown to some users. While certain users have claimed to see up to 24 additional stories.
Following more "personalization recommendations" in new iOS updates, organic search results of most applications on the App Store can be affected. Only targeted content may be shown top of the search results.
App marketing is likely to go tougher this time with the newest tweaks in trends driven by the latest iOS update.
Trends & Users' Expectations About to Fluctuate
Most notably, "Depth Effect to the Lock Screen" in the latest iPhone software update is highlighting a potential sign of some severe impact on the applications using the "background execution" feature to retain viewers (e.g., music apps).
However, the application using lock screen widgets is likely to flourish after this news with the latest iOS version for iPhone. Such applications may be able to retain viewers for long hours.
Health & Fitness Categories: The Biggest Concern!
You must start putting stress on App Store Optimization right away if you operate in Health & Fitness category.
Amid the crowd of Apple iOS 16, access to Apple's Fitness App for mobile users can't be overlooked. The application was available to only Apple Watch users earlier.
But after the new iOS update, it has been made accessible to other mobile users as well. The line on the forehead is obvious for the applications operating in the Health & Fitness category. As Apple has always been promoting its Application in the health and fitness territory.
The Bottom Line
Apple iOS 16 has arrived with some helpful and gruesome things for most iOS applications. Organic rankings of most applications can be affected, whilst grounds of new opportunities are being apparent to some. So consider early preparation.