How to Increase App Conversions Using App Store Localization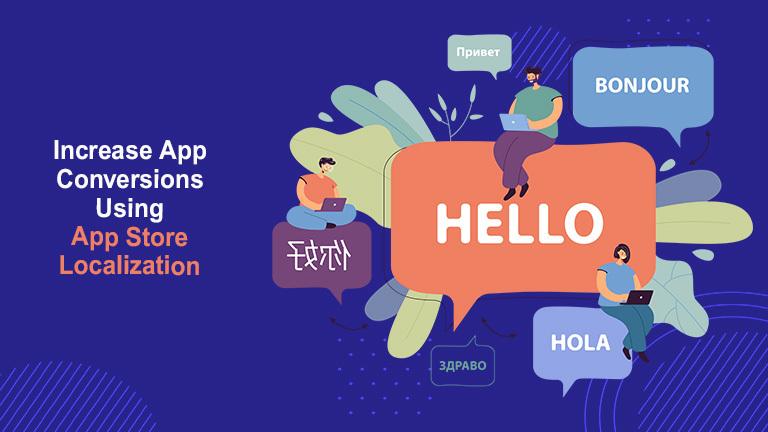 App conversions are one of the golden metrics measured by developers and marketers for multiple objectives.
It is a crucial branch of app marketing, giving proper insight into advancing customer relationships on an app. However, the true significance of conversions can extend far beyond installs.
The real conversions happen in the app when engaged users are genuine users from the targeted region, which is only possible through App Store Localization. What is it, and how it works? Learn from the guide.
What is "App Store Localization"? How Does It Function?
App Store localization is a strategic procedure meant to adapt an app to the geographic needs of the developer. Such as, if the developer wants to target a specific language, region, or market, he may go with app store localization.
For the accomplishment of the objective, developers localize the metadata (elements) of an app to make sure it is found by a targeted audience from a targeted region alone.
As app stores are available in over 175 countries around the world, localization can prompt a boost in the conversion rate of an application. However, top-notch mobile app marketing also plays an integral role here.
How Can App Store Localization Boost Conversions?
The overall definition of "App Store Localization" is quite straightforward. But how will it boost conversion? Here's an explanation.
1. Improved Personalization
Through app store localization, an app marketing agency targets audiences based on geographic keywords. More effort is being put into making an application that is tailored to the audience's interests.
Personalization is the key to driving more conversions. That's why marketing experts always try to add more personalized items to the campaigns they run for app promotion. Marketers examine the following parameters to determine success:
Localized interests

Localized behavior

The locations

Other demographic metrics
2. Easier Communication
App store localization entails the process of marketing an app using local keywords, which include regional language and slang words that are easy to read and understand by people in the specifically targeted region.
This ensures smooth interaction between the developer and the application user. Consequently, conveying a message to the audience turns out to be easier. But the developer must confirm that the application itself is giving content and information to the audience in the local language.
App store localization aims solely to make an app available to a local audience. But it doesn't guarantee whether they will keep using it for an extended timeframe.
3. Utilize mobile device features
It's no surprise that this is an era of technology and innovation. Modern smartphones are advancing in technology. Some good examples are biometrics and GPS progression.
However, most features are only available in certain geo-specific regions and not everywhere. As a result, through localization, marketers ensure that the app with special compatibility is accessible to a specific region's audience.
Similarly, this even prevents bad reviews and ratings from customers who have not targeted audiences for the app. Make sure that over 90% of people around the world are actively using their smartphones and applications. If your app isn't adaptable to their smart gadget's specifications, be ready for the worst.
4. Increased Engagement and Retention
App store localization will help you to improve engagement and retention rates. Just because this is one of the most powerful app marketing strategies, developers are enjoying outstanding outcomes.
Since everything will be entirely personalized in the app to match the audience's interests and preferences as per their local slang, an uptick in engagement and retention can be seen.
You can even utilize push notifications to gather more engagement. In-app notifications, Gmail notifications, and SMS are some of the most helpful sources to boost engagement and audience retention on an app. But still, it is vital to make those notifications localized to reap similar benefits from all sides.
Conclusion
So this is the power of app marketing and a glimpse of localization. By targeting customers and audiences from a specific region, applications can achieve a boost in conversion rate. But problems strike when you are unaware of how the whole game works. Therefore, this guide will help you to understand more about app store localization and its importance.