Mastering Twitter Ads: A Comprehensive Guide to Boost Your Social Media Marketing Strategy
Introduction
Twitter ads are a game-maker for social media marketing strategy in the digital world. Why? Well, Twitter consists of videos these days at its core. People are not feeling satisfied with the videos on Twitter, and on this platform, over 2 Billion videos are viewed daily. That's an eye-rolling moment! The videos are both excellent in quality and quantity. These Ads are good to go if you want to impact the market. Plus, it is one of the effective ways to target young audiences and your TV ad campaigns. But here's a game: you must catch their attention within three seconds, or your game will end. The potential to get relevant audiences is excellent in this meticulous world, from startups to established brands.  This comprehensive guide will unravel the dimensions of Twitter Ads to supercharge your social media marketing strategy.
Understanding the Basics
Before diving into the sea of Twitter ads, let's learn the basic swimming to get moving in advertising. Twitter ads work on a pay-per-click (PPC) model, giving space to businesses to promote their tweets to relevant targeting audiences.
Promoted Tweets: Increase your tweets' visibility to a broad audience in the digital world.
Promoted Trends: Boost your hashtag's visibility to users, providing the campaign with a trending boost.
Types of Twitter Ads:
The first thing we will look at is the different types of Twitter's ad system to understand the art of connection with the audience in the advertising world.
Twitter Video Ads
Twitter Video ads are one of the favorite ads among advertisers. Twitter's in-built function recommends keeping your video at 15 seconds or less, but many advertisers can put their videos upto 10 minutes long.  You can also use pre-recorded video ads and live video promotions. 
Note: Text overlay and closed captions are obligatory for Twitter video ads.
Twitter Single-image Ads
 In Twitter Single Image, the ads are presented as one image below a text block. It can consist of Call to Action buttons or polls to persuade users. These ad formats are among the most common as they are easy and fast to create.
Twitter Carousel Ads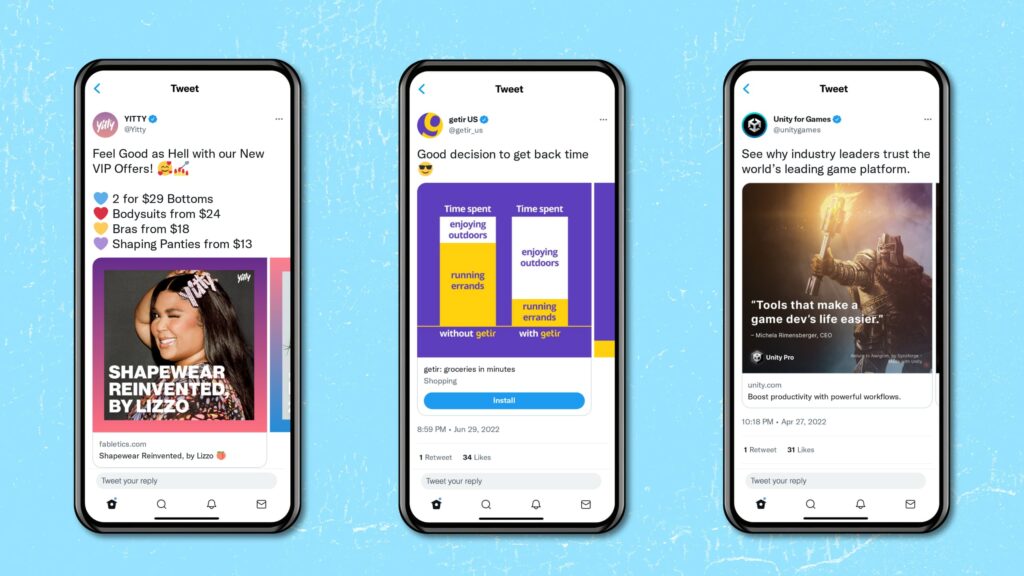 Carousel ads are a fresh format with a relatively new design in the advertising world. The Twitter Carousel ads sharply resemble Facebook's carousel ads("multi-image ads").  The main benefit of this ad is that advertisers can create ads in any corner of the world with video slides and three to seven images. 
Here, advertisers get the opportunity to tell a story in multiple slides. Carousel ads are highly effective in showcasing various products and services. In 2018, Twitter highlighted a case study where this ad format showed a 20% increase in campaign awareness and a 7% increase in purchases of the services and products.
Twitter Moment Ads
Twitter Moments allows advertisers to generate multiple tweets in a single "moment" that you can promote and share as an ad. This Moment ads are a great source of catching attention with high-quality content threads.
Moments is a fantastic advertising format if advertisers want to move beyond 270 characters to tell a visually appealing story.
Twitter Follower ads
The follower ad format focuses on getting the user's interest so that you can add more followers to your account. Below the image, these ads display a bright blue  "Follow" Call to Action.
Twitter Takeover Ads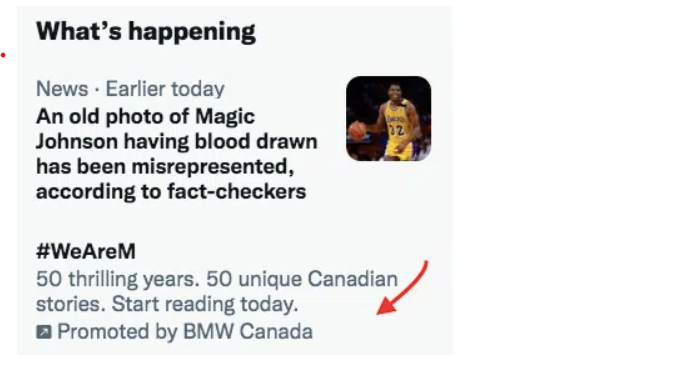 Twitter takeover ads assist brands in doing a " Timeline Takeover." These ads are showcased at the top of users' organic timelines when they open the app for the first time on a given day. The main goal is to improve the visibility when users are more engaged in the app. This ad can showcase videos or images in the respective ad format.
Twitter Amplify Ads
Twitter's Amplify ads are a video format that resembles Facebook's in-stream ads. You will get the 15-second video ad to showcase before longer high-visibility content from other users.
Targeting the Right Audience
The heart of effective Twitter advertising lies in reaching the right audience. To capitalize on Twitter advertising, you must robustly target the various elements in the market.
Keywords: Target essential keywords that can align with the interests of users.
Interests: Connect with relevant users who share common interests with your business.
Demographics: Filter your audiences based on gender, age, location, and language.
By working on these elements, you can ensure that your ads are seen by those most likely to engage with your content.
Crafting Compelling Ad Copy
Capturing the audience with a limited character space requires eye-to-eye expertise. Designing the impactful ad copy can attract the audience to take action. Include a clear call to action(Call to Action) and hashtags to improve your campaign's discoverability. You can implement visuals that showcase your brand's message. An eye-catching video or image can increase the engagement of your audience. 
Budgeting and Bidding Strategies
Twitter Ads provide bidding and budgeting strategies to improve your ad campaign. Experiment with the different bidding strategies and budget allocation to determine what suits your ad campaigns. Whatever you select, be it automatic bidding or setting a maximum bid, try to check the performance and tweak your strategy accordingly.
Analyzing and Optimizing Performance
Consistently analyze the performance of your Twitter Ads campaigns. The dashboard shows a glimpse of click-through rates, engagements, and impressions. Figure out the high-performing tweets and copy those high-functioning strategies. Try to analyze the underperforming content and tweak your system with your unique approach.
Conclusion
Mastering Twitter Ads is an ongoing journey of tweaking and adaptation. You can elevate your social media marketing strategy by understanding the fundamentals, targeting the right audience, setting clear objectives, crafting compelling ad copy, and actively analyzing performance. Embrace the dynamic nature of Twitter, experiment with different approaches, and watch as your brand becomes a force to add up within the digital realm. With the power of these insights in your hand, you're well on your way to making Twitter Ads an invaluable asset in your marketing arsenal.